Hi everyone,
No card tonight/this morning, I'm up far too late but just had to post my ickle bit of news as I'm on my jolly hollies tomorrow/today?! and it just won't wait until I'm back......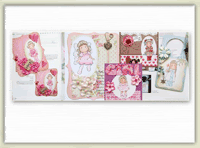 OMG! I had to do a double take when I saw that they had picked me to join them over at Totally Tilda, I just can't wait to get started! They are such a friendly bunch of ladies and I feel honored to be on yet another amazing DT - I must be doing something right, right?
Needless to say I can't stop grinning, people must think I'm off my rocker, but I don't care lol!
Hugs,